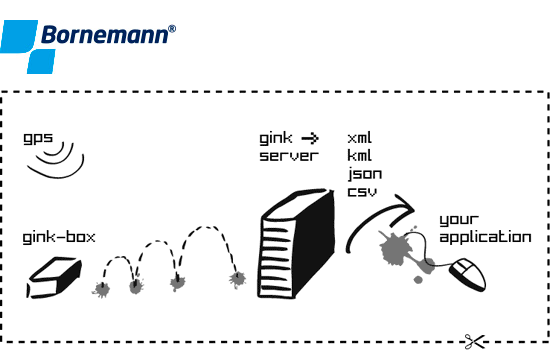 Integrate GPS data with gink today
GPS tracking server software for data collection

Gink has been specifically designed to deliver GPS data to integrators through our REST web service. There are many possibilities to integrate GPS data into your applications, ranging from vehicle tracking / monitoring to full-fledged fleet management systems.
Instead of offering a closed system, we offer you access to our API so you can build your own GPS-enabled applications on top of gink - or integrate GPS data into an existing application to add value for your customers. Gink makes it easy to integrate live and historical tracking data into a program. You don't have to to write your own GPS server software or deal with complicated protocols.
This is how it works: a gink-box receives position data from GPS satellites - as well as event data and status messages - and communicates with our servers, which process all incoming data and make them available for you via the REST web service.
In short, we take care of all the processing details, giving you more time to concentrate on your project.
gink benefits
Data available through an easy-to-use REST Webservice

Most Recent Position
Accumulated Distance Traveled
Historical Position Data
Historical Event Data ...

(for a complete list, please visit gink API page )


High accessibility

Desktop applications
Web applications
Mobile
any platform that has access to the World Wide Web.



Supports a variety of data output formats: xml, kml, json, csv

Visit gink API page